Home » Hospital & Durable Medical Equipment » Top Three Uses for 3D Disease Models » Top Three Uses for 3D Disease Models
Top Three Uses for 3D Disease Models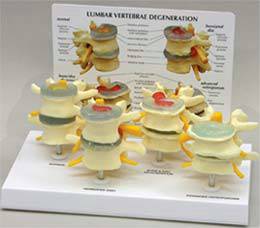 Item# 0671GPI
Retail Price: $276.60
Your Price: $221.60

Unit:
1 set
Many medical facilities, research or educational institutes and doctors offices have standard models of different parts of the human body. These models are used to help patients visualize the sometimes very complicated and complex issues around a particular condition, illness or injury. However, the major drawback to these standard types of models is that they only provide a view of the healthy joint, organ or body part. A better option to help patients understand just what disease does to the body is to have 3D disease models available as well.

Healthy anatomy models can be contrasted or compared to the 3D disease model to dramatically and very clearly show the patient what is going on inside his or her body. The models can also be used with family members and caregivers, helping to clarify why specific treatment options or surgical procedures are essential for the patient. Often conditions that show few external signs such as early stages of many types of cancer, hypertension, osteoporosis or many types of digestive disorders are extremely difficult for a patient to visualize and understand. 3D disease models bring the internal organs into focus in a very clear and concise fashion.

Most people are very comfortable in looking at 3D disease models over other types of representations. While 3D disease models are lifelike in many aspects they are still not as graphic as actual disease photographs or medical videos that show surgical procedures or diseased tissue and organs. The patient is therefore much more receptive to listening to information and even asking questions since their anxiety level is much lower. Any opportunity to lower anxiety in a patient facing a serious medical condition is beneficial. In addition the use of models allows the patient to do a bit of self-learning using the clear, simple and labeled 3D disease models.

For students, the use of 3D disease models in medical classrooms or human anatomy classes helps with understanding and concept development. It is often difficult to spot problems in human tissue, even in carefully controlled laboratories or training classrooms. Having models that provide unlimited study time for students helps them to become more proficient at looking for the same tissue damage or symptoms when working with actual tissue samples or patients.

Another key factor in using 3D disease models in both teaching and patient work is that may models are designed to show various stages of a disease. Most conditions, including osteoporosis, cancer, and digestive disorders become progressively worse over time without treatment. Having a model that shows the various stages of the disease can help in encouraging patients to seek active and intensive treatments at the first diagnosed stage. With a clear understanding of the progression of the condition the patient can make a more informed and accurate determination for the medical treatments they select.

3D diseases models are often used in teaching children and young adults in health classes and science classes. In this application the models are not meant to scare children, but allow an age and level appropriate discussion of the various health issues related to lifestyle choices and overall healthy lifestyles.

MSEC remains dedicated to providing the very best and the very latest in medical supplies and equipment. We never cease to be on the lookout for the latest innovation that will benefit both our many clients and the patients they dedicate their lives to caring for. If you have any difficulty finding your choices in our vast inventory, call our customer service at 1-877-706-4480 to speed up your order or to make a special request. We are always happy to help you.