Home » Hospital & Durable Medical Equipment » How Anatomical Pelvis Models Can Help Your Patients » How Anatomical Pelvis Models Can Help Your Patients
How Anatomical Pelvis Models Can Help Your Patients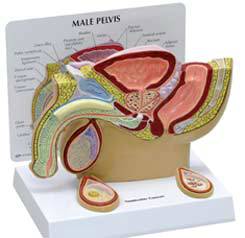 Item# 0753GPI
Retail Price: $112.69
Your Price: $94.89

Unit:
single
There are a lot of different ways that doctors interact with their patients during an exam or consultation. Often the patients have a difficult time understanding the details of the issue the doctor may be discussing, particularly if it is something that is not generally easy to understand. Anatomical pelvis models are one way that doctors specializing in reproductive and internal health can help their patients see and understand even very complicated medical discussions. Generalists can also use these models with their patients, providing a three dimensional look into the human body.
Anatomical pelvis models are either male or female and contain both the respective reproductive organs as well as the external physical aspects of the pelvic area. They are typically in cross section through the body, allowing the patient to literally see into the pelvic area for easy understanding. The backbone, tailbone, bladder, rectum and one side of the genital organs are in place in the model. The major blood vessels and structures within the pelvis models are also visible and often color coded for easy tracing and location for the patients.
In most models there are removable features within the anatomical pelvis model. This typically includes the rectum that can be snapped in or out of the model to provide additional visibility into the pelvis. Some are more realistic looking than others but all are equally invaluable to developing a clear understanding of what the physician may be speaking about or indicating to the patient.
Another important type of human anatomical pelvis model is a model that displays what occurs when a hernia is active. An anatomical inguinal hernia model is ideal for showing patients how a hernia looks and how it impacts the normal body functioning. These models typically show the hernia open in various layers, allowing options for in depth discussions complete with very realistic looking models. Diagrams that compare normal and herniated organs are a great option to display and contrast different sizes and types of hernias for patients.
Most of the anatomical pelvis models are either life size or half life size, perfect for easy storage in a display area, countertop or shelving unit. They are very lightweight plastic, meaning they are easy to lift up and down and store without any stress or strain. The plastic is also very durable and will last indefinitely, keeping the colors true to life and non-fading no matter what lighting conditions may exist in the hospital, clinic or office space. In addition the models come mounted on a flat base to prevent them from being difficult to stand up or balance on any flat surface.
Unlike full sized human skeletons and models, the anatomical pelvis model just focuses in on the specific organs and systems found within the pelvis. This type of detail is important for both physicians and patients alike and can even help families understand the diagnosis and treatment of loved ones and family members. Models in the office or patient consultation rooms really are an important consideration and one that is well worth the small cost to having these displays on hand.