Home » Hospital & Durable Medical Equipment » Explaining Joint Problems Using an Arthritis Model » Explaining Joint Problems Using an Arthritis Model
Explaining Joint Problems Using an Arthritis Model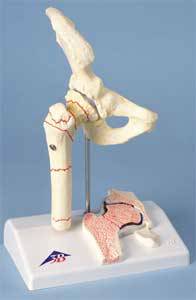 Item# 88AA3BS
Retail Price: $121.85
Your Price: $101.66

Unit:
single
Item# 1391GPI
Retail Price: $124.22
Your Price: $108.89

Unit:
single
Arthritis is a very commonly diagnosed condition in both the elderly as well as the adult population. While it is also diagnosed in children and teens, this is a less common occurance. It can be very helpful to be able to share with patients of all ages exact;u what is happening in their joints to cause the pain, discomfort, irritation and lack of range in motion. While many doctors do an outstanding job of this just through discussion, an arthritis model can really help the patient during a medical consultation.
A family physician, clinic doctor, or an orthopedic specialist will each find opportunities to use an arthritis model. If the models are kept in the patient examination room as well as the consulting room or doctor's office they are always handy and easily accessible. Since they are very small, usually approximately three by five inches in size, they are easy to store on a desk, counter or bookcase. There are also models that have a corresponding card that provides information on the condition as illustrated by the model. This additional card is slightly larger, about 8 ½ by 6 ¼ inches, and is mounted just behind the arthritis model itself. This card forms a type of back to the model, giving it a very nice finished appearance for any type of display.


Most of the arthritis model styles and types include other associated conditions that can be found in conjunction with arthritis. Depending on the joint in the model those may include bone spurs, degenerative joint disease, or osteoarthritis as well as erosion of the cartilage or features of the particular joint. Having a variety of different conditions displayed on the same model or group of models can be very helpful in allowing patients to differentiate the issues. The information card can be good for this, even if the patient is looking at the anatomical model on his or her own. The patient can easily read about the health condition, and identify problem areas on the model.


An arthritis model that groups the different stages of the condition can be an excellent tool for the doctor to use with a patient of any age. The model will usually show a progression of the disease from left to right across the base. The corresponding card provides additional information on the structures visible. The benefit of this type of model is that both a healthy joint, free from degenerative joint disease and arthritis, is shown as the first model. This allows comparisons through the small models. The actual size of the joints will depend on the model style; however they are usually ¾ life size in most high quality models. These stage arthritis model types are a quick visual look at how significant this condition can become. Joints most commonly used in this type of model include the knee and the hip joint. Arthritis model options are available in many medical stores and supply centers but they are also available online. Buying online is quick, easy and cost effective, the perfect combination for a busy hospital or clinic manager.


MSEC remains dedicated to providing the very best and the very latest in medical supplies and equipment. We never cease to be on the lookout for the latest innovation that will benefit both our many clients and the patients they dedicate their lives to caring for. If you have any difficulty finding your choices in our vast inventory, call our customer service at 1-877-706-4480 to speed up your order or to make a special request. We are always happy to help you.