Home » Hospital & Durable Medical Equipment » Child Thermometers » Child Thermometers
Child Thermometers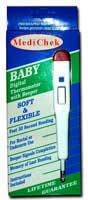 Item# 3106-010RHTMAID
Retail Price: $115.67
Your Price: $99.95

Unit:
30/case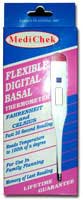 Item# 0156-010RHTMAID
Retail Price: $289.99
Your Price: $226.84

Unit:
72/case
When children become ill, one of the first tests that is done can be accomplished by the parent at home or by a nurse in a pediatrician's waiting room. This is taking the temperature with a child thermometer since presence of a fever is often one of the first indications of disease or infection. Here at Medical Supplies Equipment Company we understand the need for a quick, accurate, and easy-to-use child thermometer which will make both the nurse's and the parent's task much simpler, and enable the pediatrician to make the proper treatment recommendations.
Some of the things to look for in a child thermometer are the ease of use and a clear display which is easy to read. The age of the child must be taken into consideration. This is because very young children and toddlers might choke on oral thermometers unless it is one that is a specially designed pacifier child's thermometer . Younger children need either a rectal thermometer or an baby ear thermometer. Parents need to remember that if they are taking their child's temperature at home rectally, a rectal thermometer must be used. These differ from oral thermometers in that they have a larger bulb on the tip to prevent them from being inserted too far. rectal child thermometers can be used orally, if they are cleaned off very well, but oral thermometers should never be used rectally for the safety of the child.
There are many models available for child thermometer. The one which is chosen must be able to be easily used by the nurse or parent and give an accurate reading. This is why digital Thermometers are preferable, since there is little chance for error in reading the results. Determining if a child has a fever is often one of the only ways that illness can be detected before other symptoms manifest themselves. The pediatrician will need to know accurately, what the patient's fever is so that he can use that information along with other symptoms to make a proper diagnosis and to recommend the best treatment. This makes it very important that the parent has a child thermometer at home so that when the doctor is called, the parent can make a report of the presence or lack of a fever to the physician. This gives the doctor information on the condition of the child before he enters the office. It might even prevent the young patient from being required to make an office visit.
Many of our child thermometer customers are patient's parents, or they are from clinics or small medical facilities. Often for these people, budgets are often extremely tight, but needs are very high. Here at Medical Supplies Equipment Company we understand this. That is why we strive to make the best quality child thermometers and medical supplies available to you for the lowest cost, and that cost is even lower for those in the medical arena. By signing up for our medical professionals discount you can save even more money. Please allow us one to two business days for processing your request before you order.
If you did not find the child thermometer you are looking for, please post a question to our expert or contact us toll free at 1-877-706-4480, and we will find what you are looking for at the best possible price.
Please review our other thermometers selections below: