Home » Hospital & Durable Medical Equipment » Digital Medical Scales » Digital Medical Scales
Digital Medical Scales
Item# 1594DET
Retail Price: $2,279.25
Your Price: $2,133.42

Unit:
single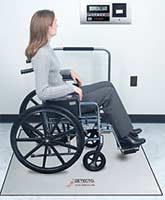 Item# C-II-341-HFDET
Retail Price: $5,723.59
Your Price: $5,328.66

Unit:
single
Item# 466SEC
Retail Price: $4,105.00
Your Price: $3,719.89

Unit:
single
The digital medical scales is an indispensable tool that is a crucial source of information for the physician. In fact, many physicians seem to overlook this tool even as they pass it several times a day. One of the most important, most used pieces of equipment for a physician is the digital medical scales. It's frequent use is often taken for granted, even though it is the first piece of health care equipment that the patient encounters during an office visit.
Common medical knowledge holds that the obese have different health needs and risks than those who are simply overweight. They also have special needs. In light of America's growing waistline, every physician needs to be certain that all the tools in his office can accommodate the obese. Many older scales would not support morbidly obese patients, but many modern digital medical scales will hold up the extra poundage, while they still give and accurate, clearly seen readout.
An accurate digital medical scales can give information that can be trusted by the physician. Having an accurate digital medical scales to give the weight for the patient is crucial for the physician, since weight plays such an important aspect in every medical area from diagnostics to treatment. Many diseases have the patient's weight as a critical risk factor. Heart disease, hypertension, diabetes, and even insomnia have excess weight as a risk factor. Obesity can also lead to complications in these ailments. For a doctor to make a good diagnosis, he must have the right data. This data, such as weight, guides the practitioner to know which course of action to take in the treatment process. Knowing how much excess weight a patient has allows the doctor to give the proper recommendations to the patient concerning weight loss and maintenance for optimal health.
During the admission process, the patient's pulse, blood pressure and height and weight are measured. The digital medical scales that is used to determine his weight must be accurate and easy to use, with a clear display that is easily read by the nurse. Quality digital medical scales give a measure of the patient's weight, in a clear, easy to read display. Unlike the balances of yesteryear, the only steps that should be taken to determine weight on a digital medical scales should be the one that the patient makes to stand upon it.
Ease of use is a critical factor since it is not only the physician who uses the Digital digital medical scales. More often than not, it is operated by either a nurse or a physician's assistant. These vital members of the doctor's office and hospital do not have any spare time to figure out how to use a complicated digital medical scales. Nor do they have the time to go through a long series of steps in order to use it. The time that a patient waits can be cut shorter by the rapid turn around of patients who undergo the preliminary screenings with a blood pressure cuffs, stethoscopes, and digital medical scales. The sooner the nurse can get through these tasks, the sooner he can go to serve the next patient.
Accuracy and ease of use are the goals that should be achieved in any quality digital medical scales the practitioner uses.