Home » Hospital & Durable Medical Equipment » Get A Grip On The Body With A Human Anatomy Muscle Model » Get A Grip On The Body With A Human Anatomy Muscle Model
Get A Grip On The Body With A Human Anatomy Muscle Model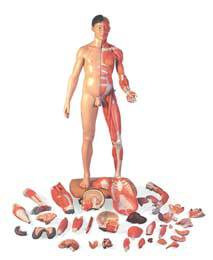 Item# 25BA3BS
Retail Price: $13,261.38
Your Price: $11,792.67

Unit:
single
One of the most challenging systems to learn in the human body is the amazing system of muscles that allow both voluntary and involuntary body movements. It is often difficult to see the muscles of the body, especially those that are in the core and the deeper muscles, so adding a human anatomy muscle model to your classroom will really help to make a difference. These models can also be very beneficial in a variety of medical offices and facilities such as chiropractors, physiotherapists, massage therapists and sports medicine clinics.
A human anatomy muscle model can come in a variety of sizes and types. One of the most basic is a desktop model of a single muscle fiber, magnified to 10,000 times its natural size. This huge version of the simplest element of a skeletal muscle is incredible in its detail with various internal layers easily visible. Each different component of the skeletal muscle is color coded and designed to be lifelike and highly accurate while still remaining an effective teaching tool.
From this basic model of a skeletal muscle there are a range of human anatomy muscle model options. There are individual limb components; the legs, arms, and torso muscle models. These highly specialized models are typically life size in design and come mounted on a base that allows easy display and storage. To work with the model, most which have different removable components, the entire model can be lifted off the stand for a true hands-on option.
These lightweight plastic models are, nevertheless, very durable and more than sturdy enough to stand up to a lot of handling. They are designed so that the removable components easily snap or slide into place without any need for additional support or attachments. Different features on each of the specialized human anatomy muscle model designs provide just the model you need for your teaching, office or classroom use.
Full body or just torso human anatomy muscle models come in a variety of styles from individual male and female models to models that actually include the muscle groups for both genders in the same torso or full body. Again, most of these models are very close to life size with full body human muscle models typically between four and five feet exclusive of the stand. These highly detailed models have both the superficial muscle groups as well as the deep musculature, perfect for basic to advanced trainings or classes. In addition there are removable parts which include removable legs, arms, hearts, heads, lungs and stomach as well as genital organs. These types of models are terrific as all purpose models.
With so many options to choose from with the various human anatomy muscle models it isn't hard to find just what you are looking for to enhance your training or class work. Flash chards and charts are also a great idea to use in conjunction with the models and for review and testing purposes.