Home » Hospital & Durable Medical Equipment » Medical Scales for Physicians & Hospitals » Medical Scales for Physicians & Hospitals
Medical Scales for Physicians & Hospitals
Item# S1932DET
Retail Price: $691.20
Your Price: $620.20

Unit:
single

Item# 944DET
Retail Price: $367.20
Your Price: $296.69

Unit:
single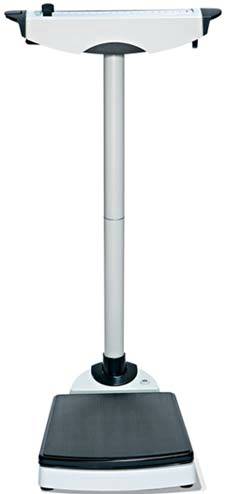 Item# 8001211017SEC
Retail Price: $658.54
Your Price: $567.00

Unit:
single
The right choice in medical scales , whether digital column scales or mechanical column scales , is an important consideration for anyone working in the health care industry. Monitoring variations in a person's weight over time can provide crucial information to a doctor or nurse about the overall health of a patient, or the effectiveness of certain treatments. When such precision is needed, health care professionals seek specialized medical scales that have been designed with the specific needs of their patients in mind. At MSEC, we offer a large selection of medical scales as a response to the diverse needs of the doctors, nurses and patients who will require information about weight and/or body composition.

Digital technology has opened new possibilities for medical scale technology. It has, for example, allowed for the development of sophisticated medical bed scale systems that can monitor a person's weight as he/she lay down and alert hospital staff if certain fluctuations occur. Digital medical scales such as these have become indispensable to dialysis and intensive care units. In a less dramatic way, digital technology has also reached the home consumer in the form of personal scales—some of which are equipped with body fat analyzers.

We offer a number of medical scale systems which are designed to fit the unique needs of patients for whom traditional, mechanical scales are less suited. These include the bed scales mentioned above, as well as wheelchair scales, hand-rail scales, and chair scales. These high-quality designs ensure precise and safe weighing for persons who require assistance or support, as well as technological sophistication that allows for more detailed analysis of various body factors over a period of time.

In many ways, however, mechanical column scales are still relied upon by medical staff and professionals who appreciate their timeless, utilitarian appeal. The traditional mechanical column scales, sometimes called the "physician's scale," is probably the most recognizable medical scale in existence. Most of us can probably remember standing upon one as a child as our family doctor slid the irons around, searching for the "balance" that would magically reveal our weight. We have several models of mechanical physician's scales to choose from, each of which are inexpensive and in many cases come with up to a 5 year warranty.
Bathroom mechanical scales are also available for discreet, personal weight monitoring for the office as well as home. These affordable scales provide precise, consistent weighing for multiple purposes. For those who want more detailed information, we have personal electronic scales available as well. These provide full body composition analysis, which can be read through a variety of settings.
Regardless of the type of medical scale you require, it can certainly be found among our wide and comprehensive selection of medical supplies and equipment. If you do not see the type of scale you need on this website, or if you have any questions about the medical scale systems we offer, please call us toll-free at 1-877-706-4480. Our experienced staff of medical supply professionals can help you locate the medical scale suited to your needs.