Home » Hospital & Durable Medical Equipment » Percussion Reflex Hammers: The Knee Jerk Hammer » Percussion Reflex Hammers: The Knee Jerk Hammer
Percussion Reflex Hammers: The Knee Jerk Hammer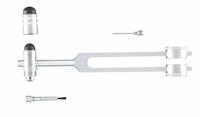 Item# 312-120FSI
Retail Price: $78.16
Your Price: $58.89

Unit:
single

Item# 572-9-SGFSI
Retail Price: $37.38
Your Price: $20.89

Unit:
single
For precision and versatility in neurological examinations, we offer several percussion reflex hammers in a variety of materials, styles, and sizes. Many of our percussion hammers include special components for specific diagnostic procedures, practice specialization, and patient care needs. Additionally, some of the manufacturers we carry offer two-year performance warranties on their percussion reflex hammers. The following summary highlights our online inventory.
The Buck Neurological Hammer with Brush and Needle remains a popular percussion reflex hammers well known for its versatility and mallet-type style. The base of the handle holds a retractable brush useful in provoking general cutaneous reflexes. On the other end of the percussion hammers, the chrome-plated brass head features a recess into which screws a needle used to perform pinprick cutaneous reflex tests. The handle balances with an ergonomic design engineered to deliver controlled force, and the weighted head delivers precise percussions with its soft TPR design. This percussion hammers comes with a manufacturer's two-year performance warranty and delivers highly effective, reliable results in cutaneous and myotatic reflex testing.
The 8" Rabiner Neurological Hammer with Brush and Needle adds a new modern design to the original Babinski Hammer. The swivel-head hammer consists of a thermo-plastic rubber bumper and a chrome-plated brass disc that enables the doctor to use the head in either a perpendicular position to the shaft or a parallel position. The handle features sand brushed, hexagon design with a pointed tip that is weighted for precise balance that enables controlled delivery of force. Many doctors prefer the added flexibility this neurological hammer offers when testing myotatic reflexes in arm muscles, knees, and ankles. Like the Babinski Hammer, the Rabiner Neurological Hammer also comes with a 2-year manufacturer's performance warranty and contains no latex components.
The large Taylor Percussion Hammer measures 7-1/2" and features a solid handle made from chrome-plated Zinc Alloy and a pointed tip for cutaneous and plantar reflex testing. The triangular head is made from thermo-plastic rubber with both a beveled apex and base designed to test myotatic reflexes. The handle forms a band that encircles and secures the head between the apex and base and is held in firmly in place by a pin. Doctors use this percussion hammer frequently to determine the precise locations of tendons and for percussion tests on the chest and abdomen. We offer a smaller pediatric model in the same design.
We also carry two DeJerine Percussion Hammer, each measuring 8" and 9 ½", respectively. The 8" model consists of a hollow, stainless steel handle designed for secure grip without hand slippage. The hollow handle distributes the majority of the weight toward the rubber bumper to provoke strong reflex responses without discomfort to patients. The larger model consists of the same hollow, stainless steel handle with a foot pin on the handle base and includes an insertable needle for pinprick cutaneous reflex testing.