Home » Diagnostic Supplies Products Equipment » Physician Scales For Accuracy » Physician Scales For Accuracy
Physician Scales For Accuracy

Item# 967SEC
Retail Price: $345.00
Your Price: $289.89

Unit:
single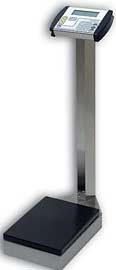 Item# S0348DET
Retail Price: $1,453.20
Your Price: $1,283.58

Unit:
single
Although called physician scales, these weighing devices are perfect for a range of different uses. They are ideal for gyms, weight loss centers, clinics, laboratories, schools and even for home use. The major benefit of these mechanical scales is that they are designed to be highly accurate and appropriate for a wide range of different weights from children through to adults. Different manufacturers will provide different weight ranges but typically these scales will have a capacity of three hundred pounds and up. There are larger capacity medical scales as well that are classed for bariatric patients.
Physician scales will vary from floor scales through to column styles of scales. Both need to be carefully considered fro their accuracy as well as their dependability. Each type of device is calibrated to a specific accuracy based on the specific recommendations of the manufacturer. In addition to obtain a calibration certificate it is essential that the scale be re-calibrated when it is installed. This is because moving the scale can actually cause the accuracy to change. In addition the specific geographic location of the scale can also impact the weight that the scale displays if it is not calibrated on location. The elevation that the scale is used at can also have an impact on the weight that is measured due to factors such as barometric pressure.
Physician scales typically to not have to be as accurate as laboratory scales or baby scales that are measuring much lighter weights. However, accuracy is important in a great many situations. The column style mechanical scales that use manually manipulated weights on a beam can be calibrated with relative ease. A pre-set weight can be used to set the scale accurately and, in some cases, it is possible to generate a calibration certificate using this method. External companies also provide calibration certificates should they be required.
The standard floor models are typically calibrated using a manual control located on the bottom of the scale. This is typically a wheel type device that is turned either clockwise or counterclockwise to ensure that the needle on the scale is set at zero when the scale is on but not in use. This calibration is very simple and can be completed as often as necessary. Most quality products will only need to be calibrated or zeroed infrequently but this can depend on the number of times it is used in a particular setting.
Accuracy with physician scales is also possible through digital readouts. These have become very popular since there is little room for error in actually reading the device. Instead of a beam and weight system column models will have a small digital LED readout device on the stand. This can be at waist or eye level depending on the model. Typically these models require that the scale be turned on, usually with a keypad found by the LED display. The patient or individual then steps onto the scale and a readout is immediately provided on the LED display. This readout can be in pounds or kilograms and may be designed to include fractional weights as well. These will be displayed as a decimal number after the pounds or kilograms on the display.
Some of the new models of floor scales are highly accurate and provide the same type of digital readout. This makes using the scales easy and also much more space saving in smaller patient rooms or even in home bathrooms. Although not traditionally used in doctor's offices these scales are becoming more common in a variety of medical uses. Most commonly the column style is still in use largely because it has a variety of features, including a height measuring rod, which allows it to do double duty.